Dear readers,
As we launch a new site, we're also striving to keep you -- our supporters, partners, donors, friends, and allies (and potentially our critics as well) -- better informed and up to date about our activities. In short, we want to make our work more transparent. Transparency is key to a good working relationship, and we could not do our work without you.
In that vein, this blog will shed greater light on Speak Truth to Power (Courage Without Borders) activities in Cambodia. The Robert F. Kennedy Center's STTP program was launched in Cambodia in 2011, and has since then reached thousands of people. Here, we seek to bring you a small sampling of the successes of the program. This blog will be filled with testimonials, pictures, videos, outtakes from the curriculum, updates on our trainings, and important announcements.
Whether you are a previous participant, hoping to partake in a training in the future (we're working on launching a new series soon!), or just a supporter of our work, we hope you enjoy these insights. We welcome any feedback on the blog or our activities, and please do not hesitate to get in touch directly at engshuber@rfkcenter.org.
Thank you for your continued support,
Laura Engshuber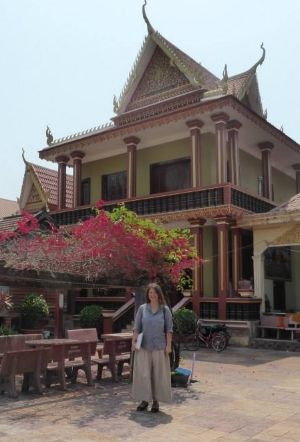 About the Author:

Laura Engshuber is a fellow with the Robert F. Kennedy Center for Justice and Human Rights and a project development manager at CIVICUS. She received her BA in government and history focusing on international relations from Georgetown University in 2012 and her LLM in international law focusing on human rights law from The University of Edinburgh in 2013. She is pictured here at Ah Ranh Pagoda in Kampong Chhnang, the site of the first STTP training in Cambodia. She can be contacted at engshuber@rfkcenter.org