Justice and Reconciliation
Building an Honorable Legacy from Destruction


The modern destruction of Cambodia had its beginning in Cold War and colonial politics. The spilling of the Vietnam-American War into Cambodia gave rise to the brutal Khmer Rouge. The 4-year reign of the Khmer Rouge (April 1975 - January 79) decimated Cambodia from which we, almost four decades later, are still struggling to survive and revive from it.
Today, CIVICUS Cambodia, with its long-established, internationally-recognized history of reconciliation and peace-building via the Center for Social Development and the Center for Justice & Reconciliation, now a major component of CIVICUS Cambodia, works with individuals who continue to struggle with the aftermath of civil war, followed by the Khmer Rouge era, one of the most lethal regimes of the twentieth-century, followed by occupation. CIVICUS Cambodia's commitment to helping the remaining survivors of such a turbulent time, in addition to educating new generations, is reflected in our projects.
What is CIVICUS Doing?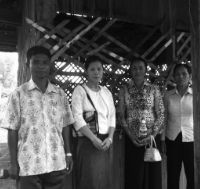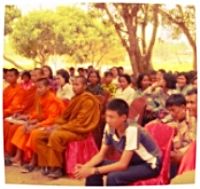 I. Engaging Khmer Rouge Victims
CIVICUS Cambodia, in partnership with AKRVC (Association of Khmer Rouge Victims in Cambodia) works to reach out to those personally affected by the brutality of Pol Pot and his cadres by engaging them in healing open discussion.
CIVICUS Cambodia places great energy and attention in creating a safe environment to facilitate dialogue. The chairs are arranged intimately closely in an oval shape in order that every participant can see the face of everyone else in the room.
The principal goal of these public forums is to provide a secure space for conversations on topics many years overdue and highly sensitive and emotional, and in the process to broaden this conversational space.
Many Cambodians, especially in villages, have limited access to general information, particularly on these issues of justice and reconciliation. Not only do Cambodians experience informational limitation but also geographical limitations. Their sense of "the world", of "the nation", of "being Cambodian" is geographically limited to their village or commune for many of them have never traveled outside of their communes.
In light of this knowledge, CIVICUS Cambodia focuses on instilling quality of information and presentation to engage all the five senses in this process of learning and engagement.
We invite different organizations and institutions to present diverse and competing ideas, through their talks or the printed materials which we encourage them to distribute at our public forums.
Moreover, each public forum is broadcast and re-broadcast on local television and national radio stations (during CSD, 3-5 hours per day on Voice of Justice Radio Program) of that particular province's public forum during the following month, reinforced by countless interviews with Theary Seng on Radio Free Asia, Voice of America and RFI (very popular in Cambodia) , etc.
As we are more concerned about deep, quality engagement and fully aware that these provincial participants will be ambassadors to their families and neighbors in their village, thus acting as multipliers, CIVICUS Cambodia would like to provide them with as many resources as possible to take back home with them in our limited engagement.
CIVICUS Cambodia, via its CJR project, works in close collaboration with the Association of Khmer Rouge Victims in Cambodia (AKRVC), a victims outreach support organization committed to healing, education and demanding reasonable, just reparations from the ECCC for all Khmer Rouge survivors.
II. Building Provincial Learning Centers and Memorials
The incorporation of the Center for Justice and Reconciliation into CIVICUS Cambodia as a major component poises the organization to strengthen its work in the establishment of provincial Learning Centers/Memorials, a project which was conceived in 2009. The project works toward the continued education of, access to, and relief from Cambodia's history surrounding the Khmer Rouge era for those members of the population outside of Phnom Penh.
Today, less than thirty percent of 14 million Cambodians live in a urban areas. Phnom Penh, the largest city with 2-3 million people, provides numerous educational and reconciliatory opportunities with museums such as Tuol Sleng and Choeung Ek, as well as access to the Extraordinary Chambers in the Courts of Cambodia (ECCC) and its proceedings, while the rest of Cambodia struggle to deal with the horrendous past due to a lack of resources and outreach. CIVICUS Cambodia's Provincial Learning Centers-Memorials Project works to repair this disparity.
CIVICUS Cambodia, in association with a wide, diverse network of actors, is working to establish and manage Learning Centers-Memorials in six provinces as a pilot project. Ultimately, we would like to see each province with a Learning Center-Memorial site throughout Cambodia, with the management and active participation of diverse actors.
CIVICUS Cambodia hopes to reach a wide-range of survivors who would otherwise be without necessary resources. The projects seeks to give Cambodians opportunities to (i) honor loved ones, (ii) receive education on the Khmer Rouge era and human rights issues, (iii) continue the legacy of the ECCC; and (iv) provide an outlet and voice to be shared with the rest of the country, and the world on issues of justice, peace, reconciliation, human rights, democracy, and personal experience with the Khmer Rouge.
III. Psycho-Social Support
In 2007, the Center for Social Development under the leadership of Theary Seng published Understanding Trauma in Cambodia which has become the quintessential handbook on addressing issues of trauma among Cambodian society. CIVICUS Cambodia continues to use these principles to offer psycho-social support to those directly, and indirectly, affected by trauma throughout Cambodian society.